Beauty & makeup has evolved throughout the years. Nowadays you can find over 1,000 makeup brands, vegan & cruelty-free options, foundation colours catered towards every skin type, and products that work on both men and women! We live in a society, where we are just a click away from our favourite eyeshadow palette, as well as an opportunity to book a makeup appointment, eyebrow shaping, or waxing! However, it wasn't that easy years ago. Here are some of the most unusual beauty trends, which were huge 100 years back.
 Top 6 Items That Women Loved For Beauty Purposes
Henna Was Overused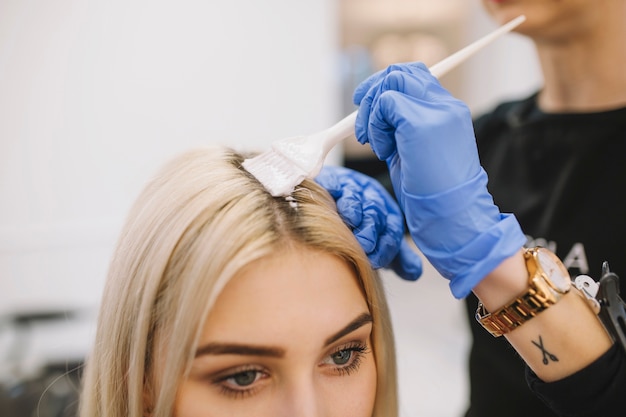 https://www.freepik.com/free-photo/girl-hairdresser-parlor-having-coloring-procedure_1915616.htm#page=1&query=hair%20coloring&position=13
Applying henna to your hair is pretty common among women who want a natural and organic solution. If you dislike bleach and box-dye, you can always reach for henna! However, years back, henna was used to outline the eyes! It was some form of a shadow, which probably was impossible to remove and wash out. Women ended up with stained eyes, while now you can use any form of eyeshadow – from liquid to powder, as well as glitter – all which are safer to use than henna.
Belladonna
Belladonna is a plant which is also known as the deadly nightshade. Nowadays it is used for pain and is an active ingredient in some medication, while years back women used it to add softness to their eyes. Prolonged use of this ingredient had an impact on some women, where they would end up with hallucinations, and a rapid heartbeat.
Lemons
https://unsplash.com/photos/zf5F_eJacsI
Since concealer wasn't a thing back in the day, people had to use some other, weird, ways to brighten up their skin. There was no loose powder either, and you couldn't purchase a foundation that was lighter than your skin tone. In order to achieve that brighter appearance, a lot of women used lemon juice on their faces. However, nowadays, this move is not suggested nor recommended by dermatologists.
Wax
Wax was used in many different ways. Some women used it to give their skin some shine, and others have coated their lashes in it to separate them, and to give them volume! Only years later women started to experience with charcoal which would give them matte black lashes.
Rose Water
https://unsplash.com/photos/gcWd0ts4RCo
Rose water is used in some creams nowadays. However, before it was used to treat inflammation as well as dehydration of the skin. Women would apply raw rose fragrance to their skin in hopes that it wouldn't break them out, and that it would do the opposite!
Beet Juice
We are well aware that beet stains are impossible to remove, but this didn't bother women 100 years ago. The beet juice was used to achieve any form of color – around your cheeks, lips, or even as an eyeshadow! It would take them days to remove the stain from their skin, and all they had to use was soap & water! Luckily nowadays, you can easily remove your makeup with 5-6 different kinds of makeup removers.