Figuring out your career path can be challenging, especially as time goes on, and as sectors evolve. Nowadays you can choose among many different beauty-related jobs, such as a lash esthetician, cosmetologist, makeup artist, massage therapist, or even an eyebrow stylist! Years before, all of these fields were manageable and operated by one person only. Nowadays men & women can improve their expertise, and can make a decent living just by focusing on one specific skill! Here are a bit more facts about the beauty industry, and why it should pique your interest!
https://unsplash.com/photos/59Td06omPVc
Never Ending (Fun) Process Of Learning
https://unsplash.com/photos/B8qIaoeKcfU
Usually, people who are good with drawing, coloring, or even cooking are ideal candidates for exploring in the beauty field! Are you someone who is drawn to fashion? Usually, all of these creative tasks and fields can help you become a hairdresser, makeup artist, or a nail specialist. If you are skilled in something similar to these activities, make sure you keep on learning and always push through! Nowadays almost anyone can become a beauty guru or a beauty specialist/influencer, you just have to be willing to learn every day, and try to be better than the day before!
A Huge Variety
A huge variety, as previously said, allows you to experiment in many different beauty fields till you find the one which suits you completely! When working on other people, you get to play with so many different face shapes, skin types, as well as textures. This is why it is important to find your fortee! If one field fails and you dislike doing, let's say, baby highlights on your clients, you can still go back to doing cuts, as well as blowouts! Nowadays beauty creators can choose their headed path, and can perform their magic without doing the "full thing". This rule usually applies to bigger salons where you can find 2-3 hairdressers that are all in charge of different things. The same rule applies to let's say a therapist: where one can only do massages, while the other one works on paraffin waxes etc.
You're Always With People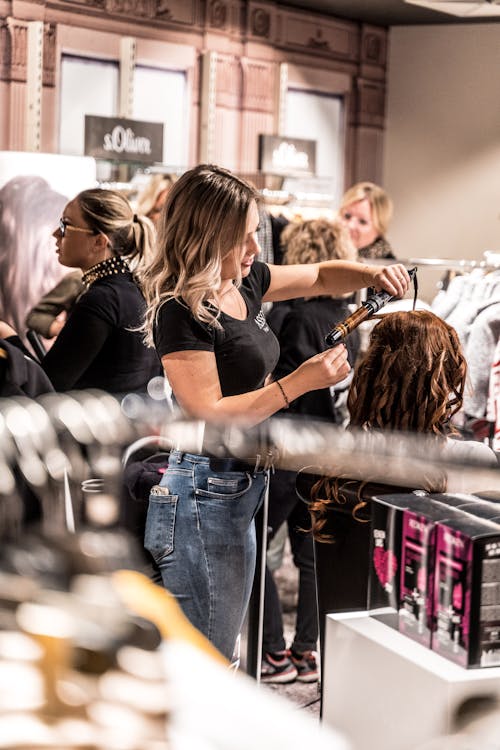 https://www.pexels.com/photo/woman-curling-another-woman-s-hair-3268732/
If you are a people person, you will definitely enjoy working in beauty sectors! No matter the position that you play, you will meet new people daily. Constantly meeting people and working with different age groups, skin types, genders, as well as on different tasks will allow you to learn new skills, and to develop a better skillset! Also, this will help you keep things fresh, exciting, but at the same time – challenging. Nothing is worse than being stuck at your job office with the same group of people that you already know, as well as going to business meetings and losing your temper while discussing tricky subjects. This also applies to typing on your computer, replying to emails etc.
Freedom
Lastly, if you are a freelancer, you will have all the freedom in the world! You can choose your preferred work location, and you can control your day! You are in charge of your holidays and vacation, as well as your overtime work! You will also choose your working hours. Are you someone who wants to work from 9-5? Or maybe you want to work on the weekends? The choice is entirely up to you!
PS: Those who end up working at a beauty salon may work the typical shift, but they will have their weekends off! Unfortunately, you might not have your Christmas or other holidays off, but you will get a bonus due to heavy traffic during these special days and special events!