Makeup Industry Is A Fast-Growing Business Many young people nowadays are finding their inspiration through Instagram or YouTube videos & tutorials. For most of them, their idols are James Charles who has 16 million subscribers. After him comes Jeffree Star with 15 million, and then comes NikkieTutorails with 13 million subscribers. The beauty industry is a fast-growing business. The U.K. beauty & personal care market was valued at £10.2bn in 2018. Usually, women that are in their 16-24 spend 30% more than they used to do a year ago. Nowadays almost everyone is shopping at Morphe or beauty bay, and everyone has access to makeup, which wasn't the cause 5-10 years ago. If you have some pocket money and access to YouTube, you will probably get inspired to create at one point.
Milly Provenzano is a Gen-Z 16-year-old makeup artist who just can't stop creating. She loves to create rainbow inspired looks, and she sees true beauty in pretty much everything. Provenzano has several different photographs in her room that inspire her to go onwards. She is also very active on Instagram where she follows all of her makeup industry idols. She says that's where you can learn a lot from drag queens since they aren't shy with their work nor appearance. Besides them, she also loves Antoinette Mahr.
When being interviewed and asked by a journalist how she can allow herself to spend several hours every day just to do makeup, Milly responded in a very grown-up way. She said that it's like comparing someone who loves to do A-level art and asking them why they like to do it. Painting, coloring, doing makeup or drag are in the same line of professions to her. Makeup to her is just like art, but you get to do it on your face.
Milly is trying to do as many colorful and unique looks each day. She says that it is a bit strange being as expressive & creative when you live in a little village in Northamptonshire. She never spots people wearing rainbow-colored eyes, or rocking drag makeup. One day Milly would love to become a makeup artist for fashion shows. She dreams of going to London & Milan. This just proves that Gen-Z does dream quite big.
Makeup Is A Skill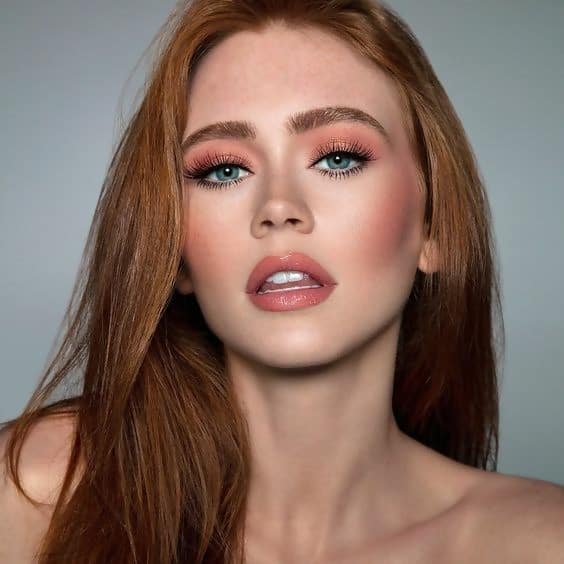 A 17-year old from Manchester Aiman Sheeraz says that makeup is a skill which you need to master. Her favorite & most demanding part is learing how to blend. Aiman got into makeup industry because she used to watch bridal makeup tutorials, but she would also love to see her mom apply makeup. Her mom passed away a couple of months ago, but Aiman continued to do looks on her family members. Soon she started to post them online and that's when her hobby became her full-time job.
Thus far she noticed that she usually works with two different types of clients. First off there are those who love the hot sculpted trends which have been invented by the Kardashians & Jenners. On the other hand, some people love a softer "Asian glam". This look is consistent out of a glowy base, soft skin, beautiful lips & bold eyes.
But It Can Still Get Pretty Colorful
Niamh Dunne is a 19-year old worker from Northamptonshire who finds inspiration in TV shows. The Lion King and Stranger Things are two major inspirations for teens nowadays, where youngsters transform themselves into their favorite characters.
Many people love to critique this and state that they should focus on their careers & school. However, those are usually older generations (and not the open-minded Gen-Z's) who are not aware of the success and exposure which you can get through Instagram.
The best example is Kylie Jenner who created a billion-dollar industry with her cosmetics line. Did you know that she is on the Forbes list as well? Out of 80 women who were listed & claimed to be self-made rich in the last year, 10 of them came from the skincare & makeup industry.
How Does Makeup Affect Their Self-Image?
Some parents are worried that makeup can have an impact on their children's appearance & self-esteem. However, Sheeraz is actually almost always bare-faced. Many Gen-Z's do their makeup only for pictures, photoshoots, and their personal playtime. Not a lot of them walk out wearing Lion King orange & whisker inspired looks.
Makeup Is For Everyone
Nowadays brands like Makeup and Fluide are coming out with a genderless cosmetic set of products. Not only them but legendary brands such as Chanel & Givenchy have also launched the male lines. Boys are definitely not excluded from wearing makeup. One of them is the 17-year-old Matt Tierney.
He confessed in one of his interviews that he tried to get his mom to buy him makeup. He told her that he was off to Halloween party when he was 14. She saw right through him and knew that he wouldn't wear it only for Halloween, but that soon it would become a full-time thing. Tierney had the confidence to film himself and post his videos online. Nowadays he explores & loves to do makeup. One of his current goals is to get 100k followers on Instagram since he believes that this is a huge accomplishment.
Finding Trustworthy Influencers Is Hard
Many people are questioning decisions & reviews that their favorite influencers do. This is because often things are sponsored and presented in way better light than they are. Luckily in the US, the Federal Trade Commission said that every pair promotion needs to be disclosed by the brand. This is why nowadays you also see that "paid partnership" section on Instagram.
Some beauty and makeup industry gurus & vloggers get free products which they get to keep. In return, they usually do a 20-second review of the product on their IG story. Sheeraz herself estimates that she had spent around £1,000 on her favorite products thus far. She says that she doesn't mind investing in her makeup items and that she'd rather be doing this than drinking & partying with her peers.
You Have To Build Your Kit
In order to pursue your dream career you have to invest in it. You are a lot like Picasso where you are using brushes, contour kits, ring lights, and any other much-needed items such as glue & gems for creating some special makeup looks. Teenagers don't mind expressing their style through makeup, and they don't think of it as a hobby. It is a way of creating, expressing, and having fun with yourself. The sooner the people around them realize that it isn't as serious to wear a "full beat" the sooner they will get to admire their bold looks.
You can have a look at our government funded beauty courses, just click here.